On to my 2nd year
Saturday, December 5, 2009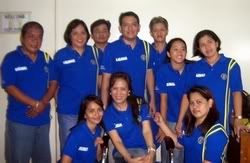 It was November 30, 2007, when I and my Council officially sat as new leaders of Barangay 885. A lot of changes happened in my then simple life as an ordinary lady, an enthusiastic blogger helping out with my husband's family business and happy circling out with friends when the desire for Public Service came in. Now, those activities were trimmed down ( but I'm still trying to balance and cope up) while performing the tasks of Chairman of our small community. My world expanded into a vast horizon which I considered dark and vague at first and innocently but slowly trekked down its path to see the brighter side of this new era of life. There were critics who caused me pains and heartaches almost me giving up. There were people who I thought were to be my new found friends and others who from the start expected not to be friends with AT ALL no matter how hard I've tried. There were some green-eyed monsters who took me as threat to their popularity because their unscrupulous malpractices will be discovered in comparison to my administration. There were times I was misjudged by people who don't know me because of my personality and class (sabi nila!). Well, thanks to all of them !!! You molded me, made me tough and drew the courage and strength that I now possess.
The sad part also came when one of my able Council member Peter "Tintin" Tinio's untimely death last August 30, 2009.
On the brighter side that also made me so thankful is the happiness and gratitude I hear and see from the eyes of my satisfied constituents who saw the the differences of the past and present mandate. I also encountered people from the country's top post including PGMA herself down to the poorest class. I gained the respect of sensible people who realized and discovered that I'm not the kind they thought I was (ano ba ko?). I met friends who I sadly may admit that until this time still doubts on who among them offers genuine and sincere friendship. Lastly, I love the little kids in the community who kiss my hand (nag mamano po) to show respect when they see me. Hahahahaha malapit na ang Pasko!!!
One thing I can brag about is that I am one Chairman with no opposisionist/s among my Council. We bond, laugh and settle whatever differences because we have an open communication line.
Last but not the least, may I impart my guiding principle in my governance.
"IBIGAY LAHAT NG NARARAPAT PARA SA BARANGAY"
(Give what is due to the Barangay)
Labels: Barangay Governance