Gift Suggestion
Thursday, November 22, 2012
Running out of ideas to give to your loved ones this Christmas? You are not alone. This problem comes up every year to me. It's a good thing I get a lot of ideas when I spend a lot online. Fishman Guitars would be the perfect gift to your musically inclined kids. It's a wonderful experience having your kids play good music while you are resting or simply just hanging out in the house. It's better than finding your kids in the streets outside your home doing something that you are not even aware of, right?
Homecoming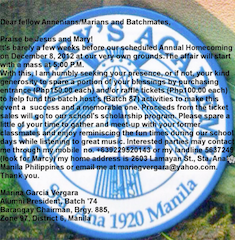 We have a scheduled homecoming on the 8th of December and I am very excited to see old and familiar faces. I love attending reunions and gatherings simply because I love to reminisce. It's nice having something to look back to anytime. To all my batch mates, your presence will mean a lot to everyone!
A Connoisseur
Tuesday, November 20, 2012
I don't know with you but I love the smell of cigar and coffee together. Can you imagine the smell? Good, right? Haha do I sound convincing enough? Anyway, the reason why I have adapted to the smell of cigar is because my husband used to
smoke cigars
. He's a coffee addict too and he knows really good coffee and good cigars. A connoisseur I can say. He has limited his coffee and cigar intake though because of medical condition but I'm sure he'll be back into it one way or another.
It's Almost Christmas
Friday, November 9, 2012
Christmas is just around the corner. Have you thought of what presents to give to your loved ones? I have actually a few in mind but due to a lot of things coming up, sad to say that I have not given it much thought really. Anyway, maybe I can do a little suggestion here and there or I can probably give this variax guitar as a present. I am pretty sure that the recipient of this present would be more than happy. I would if I received something like that, it's a once in a lifetime gift that someone would receive, right? I wish someone in the family know how to play the guitar. I would not have any second thought of giving since I wanna listen to music all the time.