Just sharing
Monday, July 7, 2008
I've had a lot shares of R & Rs the past few days aside from shoppings and chilling out with family and friends. Thank heavens for the many blessings!
I've missed my scheduled diamond peel this month from another Derma Clinic but instead tried out another facial through the insistence of my equally vain daughter Rhea Marie. It's called- Facial treatment with Etage Oxyjetpeel (Hydroxypeel)at Derma 360 at Rockwell. It's some kind of facial wherein some kind of liquid is infused through a high pressured machine infusing very cold air on your face. Check this to know more of the procedure though I didn't had it there.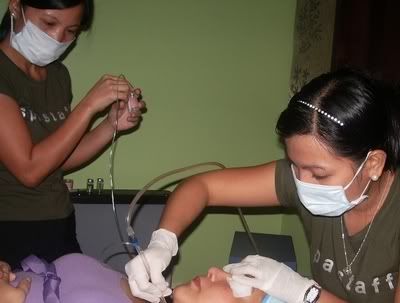 Find out
More here
for another amazing health finds.

"Did you know that in some remote places in this world, a life expectancy of more than 100 years is not uncommon?
Research has shown that many of the world's longest living people consume regular daily helpings of a tiny red fruit that may just be the world's most powerful anti-aging food: the goji berry."
Labels: Beauty and Vanities, health and fitness